Late Dr. Kanika Das was a most popular name in Medical sector. She was born in Andul, Purbapara, Howrah, West Bengal. After completing basic education from Mahiary Ranibala Kunduchudhury Institution she admited at Prabhu Jagabandhu College, Andul to complete his Graduation Level. She was the first batch student of innogorating year of Prabhu Jagabandhu College. Then she complete DMS degree from Calcutta Metropilitan Homeopathy College. Her father, Dr. Panchanan Sarkar was also a Renouned Doctor. She was inspided to become a Doctor from her father. She want to devorted herself for the service of poor and backward class people. She was also a famous Classical and Rabindra sangeet shilpi. She also want to build a Hospital and school for poor and distress people. A free medical health center was build by her. She left us in the year of 2005.
To success her dream, his son Mr. Saumen Das innogorate a school at Bidhanpally, Hooghly named as Dr. Kanika Das Memorial Institution. We also want to build 22 school in different district in West Bengal. To fulfill the dream of Late Dr. Kanika das we need your support. Any body can donate us to fulfill her dream.
About Late Dr. Kanika Das.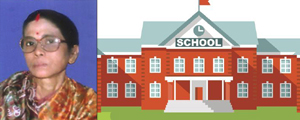 Late Dr. Kanika Das was a most popular name in medical sector. She was born in Andul, Howrah. After completing her basic education from Maniary Ranibala Institution.............................